Cosmetics
History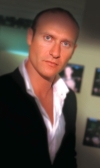 An "expressionist" artist of hairstyle and make-up, travelling and working around the world's capitals of fashion and new trends, from the United States to the Far East, from Australia to Europe, Mauro Sopranzetti has built up his extraordinary experience and know-how.
Art director of the international team of one of the leading and most innovative companies in the world, specialising in hair and face care, he has helped create products that are among the most appreciated on the market.
Numerous trips to Los Angeles, Paris, Tokyo, Singapore, Sidney, Rome and Milan have given him the opportunity to learn and understand the needs of women from all corners of the world, to face different cultures, different approaches to problems linked to hair care and the most varied tastes in terms of hair style.
Back home he put this savoir-faire into profit opening his own business some years ago, through which he had the opportunity to collaborate with the leading cosmetics companies in the world.
Thanks to his entrepreneurial activity, managing a hairdressing salon and a cosmetics trading company, Mauro Sopranzetti developed business skills and
in-depth knowledge of techniques which he then successfully applied to developing extremely personalized treatment for hair and skin.
Over the last few years, he has worked out a method that treats hair care issues in the same way as skin beauty conditions.
For Mauro, beauty is a culture, a complex mature discipline encompassing everything that deals with the health of skin, hair and style to create a natural healthy and personal image.
Devoting care and attention to your hair and skin on a daily basis means caring for an important part of yourself, one of the most meaningful ways to give an immediate and representative expression of your being special, your feelings, thoughts, emotions, passions, sense of fun and everything that belongs to your intimate self.
The true philosophy behind Mauro's range of products stems from timeless gestures: those we go through day after day when caring for our hair and skin, knowing their value and feeling their needs. EMMEDICIOTTO is everything that makes your hair and your face look more beautiful to express the light and well-being that are in you.
Philosophy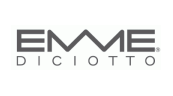 "The way you look and the way you express yourself find their focal point in your hair and in your face.
When well cared for, together they succeed in conveying the best and most beautiful part of you.
Taking care of your hair as you do of your skin, devoting it daily attention, protection, treatment, cleanliness makes your hair shinier, softer, stronger, healthier, adding it refinement and purity.
The extreme terms of your appeal.
Unique simple gestures of timeless wisdom coded to suit our modern day living."